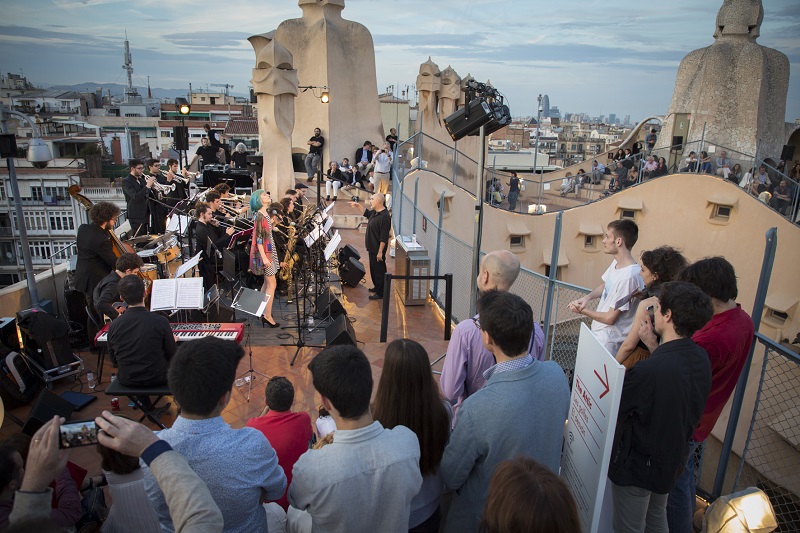 01/08/18
Casa Mila brings together the most relevant jazz talents.
In the middle of the cycle, more than 4,000 people have already enjoyed the 16 concerts celebrated to date.
The Jazz evenings cycle on the roof of Casa Mila, organized by Catalunya La Pedrera Foundation, arrives at Ecuador with more than 4,000 attendees at the 16 concerts held until now in La Pedrera.
From the beginning of June until today, the public has enjoyed great performances such as La Liceu Big Band, The Bop Collective, led by the talented Catalan saxophonist based in Holland, Irene Reig, or the award-winning Oriol Roca trio, among many others. All the shows have been uploaded to "Sold out tickets".
The nights of summer are Jazz evenings at the roof of Casa Mila
The roof of La Pedrera is transformed every Friday and Saturday into an exceptional setting to enjoy the night in summer, the views of Barcelona and the best live music of the current jazz scene.
The Jazz evenings on the roof of Casa Mila begin with a free visit to the Espai Gaudí, located in the iconic attic of the Casa Mila, with a visual tour of the architect's work. The concert is accompanied by a drink on the roof, an emblematic and suggestive place that invites you to live the architecture, the night, the city and the music.