Activity at La Pedrera:
"Iu An Mi" + "Underneath", by Lali Ayguadé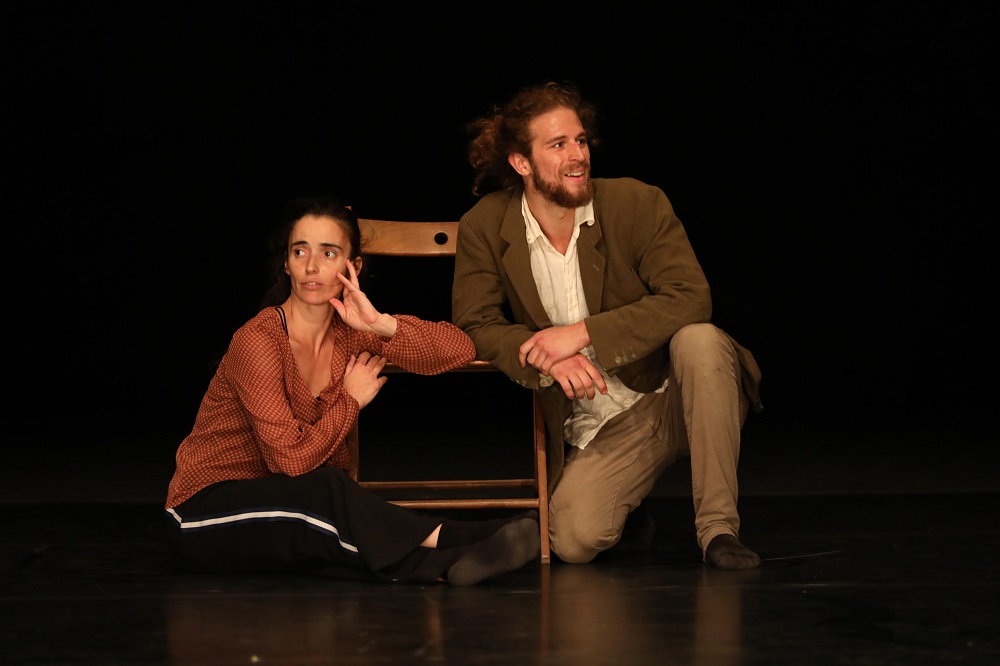 Double programme by the dancer Lali Ayguadé.
Iu An Mi
Under the pretext of a funeral, Iu an Mi wants to talk about people's behaviour in the face of irreversible facts – inevitable actions we do not know how to deal with. Emotions concealed by convention; intimacies exposed to the group. How we look at others and how others see us. The intimate and the social; the personal and the public.
With Iu an Mi, Lali Ayguadé produces a second large-scale work: a physical piece with a strong theatrical component questioning the way we teach people to react to inevitable events, emotions exposed to the group, memory, the passage of time, reality and imagination. This is the second piece of a planned trilogy of Catalan choreography, after Kokoro in 2015.
Performers: Anna Calsina Forrellad, Nick Coutsier, Marlène Rostaing and Diego Sinniger de Salas. Musical composition: Josep Maria Baldomà. Stage design: Xesca Salvà. Lighting: Fabiana Piccoli. Written by: Jordi Oriol Canals. Directed by: Lali Ayguadé. Coproduction by Mercat de les Flors, Temporada Alta and Festival Bolzano Danza | Tanz Bozen. Executive producer: Elclimamola. Production company: Big Story Performing Arts.
With the support of the Government of Catalonia.
With the cooperation of: Sismògraf d'Olot, Nunart, Graner – Creativity Factory and KLAP-estudio Kelemenis.
Underneath
We all need a guide. Something to follow and admire. Something (or someone) who blazes a trail and gives us a direction. Whether or not it's the right one. Without leadership, we feel lost, falling at every step we take. But at the instant we fall, things start to become clearer and we find something. That something could be very simple, but it is something that we yearn for. Underneath refers to the simplicity of the abstract, where movement is our strength.
Directed by: Lali Ayguadé. Created and performed by: Lisard Tranis and Lali Ayguadé. Voice off: Joana Gomila. Cultural promoter: Bernabé Rubio – Rotativa Performing Arts.
Biography
Lali Ayguadé was born in Barcelona in 1980. At the age of eight, she studied music (reading music and piano), taking examinations for the Conservatory at the Liceu in Barcelona. In 1996, she started at the Theatre Institute in Barcelona and then joined Anne Teresa Keersmaeker's PARTS. After her training, she joined Publik Eye Company in Denmark, run by Carmen Mehnert. In 2003, Lali joined the Akram Khan Company, creating and dancing in the productions Kaash, Ma, Bahok (alongside the Chinese National Ballet), Vertical Road and Confluence, in cooperation with Nitin Sawhney and Ricardo Nova. 
She has also worked with Roberto Olivan in the production Homeland and with Hofesh Shechter in the productions In your rooms, Cult and The Art of not looking back. She has also worked with Marcos Morau de La Veronal (National Dance Award in 2013) on the piece Portland and with the contemporary circus company Baró d'Evel, with which she has performed in the pieces Mazut and Bèsties. In 2010, she was nominated as an "Exceptional Dancer" in the Critics' Awards in London, and in 2014 she was nominated as "Best Creator". In 2016, she was also nominated as "Best Dancer" for the Recomana.cat Critics' Awards in Barcelona. She starred in the short film Timecode, which received the Palme d'Or at the Cannes Festival, the Goya Award and the Gaudí Award, among others. It was also nominated for an Oscar. Lali shares her technique and research associated with her creations with the whole world through workshops.
 
Admission:
General entrance fee: 10€
Reduced entrance fee: 7€
People with disabilities (33% or more).