Activity:
"Jungla", by Big Bouncers (Family Session)
Ticket purchase, family session at 11am >
Ticket purchase, family session at 12.30am >
BIG BOUNCERS
Jungla
Jungla offers a journey through an ecosystem where all kinds of creatures, shapes, colours and sounds can appear. A space where there is room for everyone, from the biggest to the smallest. A space where different bodies live and sometimes behave surprisingly. Bodies that are camouflaged, shining, floating, bouncing, stretching and constantly transforming. An unexplored space where surprise and magic can appear at any time and where all the elements are continuously moving.
Show recommended for children aged between 2 and 5.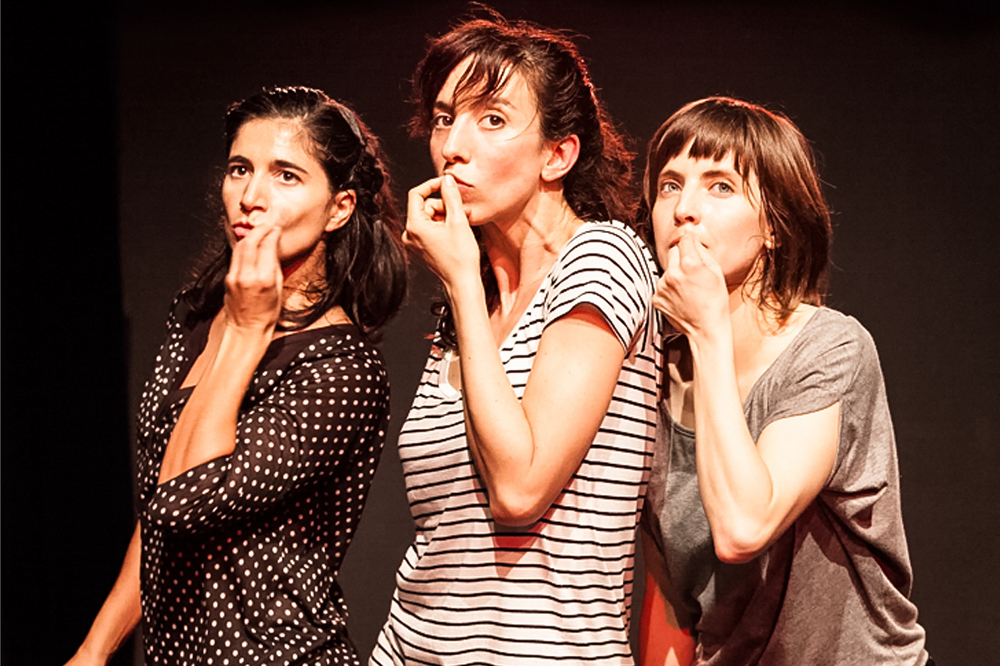 Directed by: Big Bouncers. Created by: Anna Rubirola, Cecilia Colacrai, Mireia de Querol and Ursa Sekirnik. Performance: Anna Rubirola, Cecilia Colacrai, Ursa Sekirnik and Ursa Sekirnik. Sound space and original music: Oriol Roca. Stage space: Maria Alejandre. Lighting design: Joana Serra. Lighting technician: Joana Serra/Anna Boix. Costume design: Big Bouncers and Maria Alejandre. Photos and video: Tristán Pérez-Martin. Production: Anna Bohigas. Communication: Imma Romero. Distribution: Laia Montoya. Thanks to: Nona López.
Coproduction: Mercat de les Flors.
With the cooperation of: El Més Petit de Tots Festival, La Caldera centre for creativity in dance and the dramatic arts, La Poderosa, La Visiva. With the support of: Government of Catalonia. Project forming part of the framework for cooperation between Bærum Kulturhus (Norway) and Mercat de les Flors.
Biography
Big Bouncers collective: Anna Rubirola, Cecilia Colacrai and Mireia de Querol
All of them are independent creative talents living in Barcelona. They currently manage the activities at La Visiva creative space (Barcelona). They have long careers in creativity and teaching dance. They began working together in May 2012, sharing their concerns and developing common practice, with an interest in investigating and looking in depth at new dramatic languages and developing their own working methods. Since the collective began, it has developed and articulated its work based on three core areas of action: creating dramatic pieces, creating performances for unconventional, site-specific spaces, and teaching.
So far, they have premiered the following pieces: Big Bounce (2013), Big Bounce Site Specific (2013), Doppelgänger (2014), I see a spider on the wall (2014), OVNI (2017), Acte reflex(2018) and Jungla (2018). The collective has received the Sebastià Gasch Award, Aplaudiment a la creació emergent, FAD 2015, for its piece Big Bounce. In 2018 they were nominated for the Dramatic Arts Critics' prize for best Spanish dance show for their piece OVNI. 
Admission:
General entrance fee: 8€
Reduced entrance fee: 6€
People with disabilities (33% or more)