Activity at La Pedrera:
"Pink Fish", by Ana Borrosa + "Get No" by Irene Garcia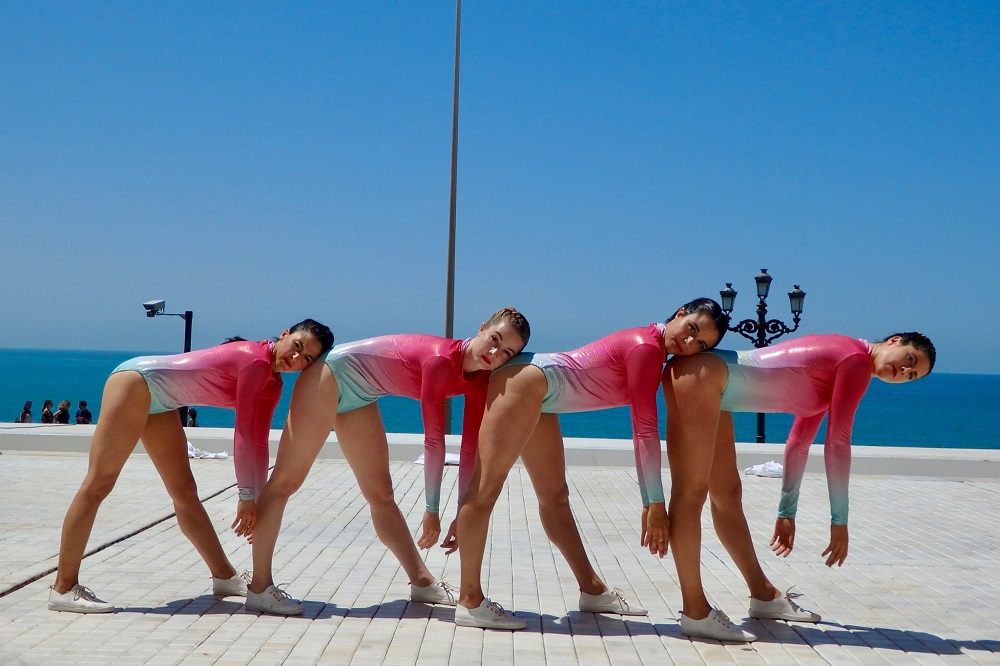 In the second session of the cycle, we present a double programme with productions by two young choreographers with interesting and promising careers. Creative talents from the same generation and genre and choreography helping tell stories about absolutely contemporary situations and concerns. 
ANA BORROSA
Pink Fish
This is a piece of contemporary dance for four female dancers. Its starting point is the peculiar world of synchronised swimming based on which it tries to show the dark, sick face of a coloured, (self)medicated, made-up society that is always smiling. The reference to synchronised swimming is like an example of all the sports paternalistically associated with femininity.
A little ecosystem. A perfectly designed living space. Perfect proportions, straight lines, the right ambient temperature and always a warm smile. Jaws behind a transparent wall. Cold anguish. Water. A huge glass window recreated for the spectator's enjoyment.
Directed by: Ana Borrosa. Performers during the creative process: Manón Almellones, Nora Baylach, Sivgin Dalkilic, Laura Maresc, Marta Reguera, Rosalía Zanón with the special collaboration of Jesús Aragón and Elena Lalucat. Performers on stage: Manón Almellones, Sivgin Dalkilic, Marta Reguera and Rosalia Zanón. Lighting: Jaume Ortiz. Costumes: Majes. Voice off: Carlos Ulloa.
Thanks to: Theatre Institute, L'Estruch creative factory, Cecilia Colacrai, Roberto Fratini.
Biography
Ana Borrosa graduated from the Theatre Institute in choreography and performance in 2018, where she obtained an outstanding result with her final degree project. She carried out her project as a choreographer's assistant, together with the artist Roser López Espinosa, for her piece L'Estol, in the public context of the National Production of Catalonia. She is also an architecture graduate (2012) and she took a postgraduate course in stage design at ELISAVA (2015). She currently works in parallel as a graphic designer and a lighting designer.
Her first work, Pinkfish won first prize and the public prize at the 13th Sabadell Choreography Event. It was also chosen to form part of the catalogue for the A Cielo Abierto Network 2019. Ana Borrosa has been selected as resident in the emerging artist category at El Graner.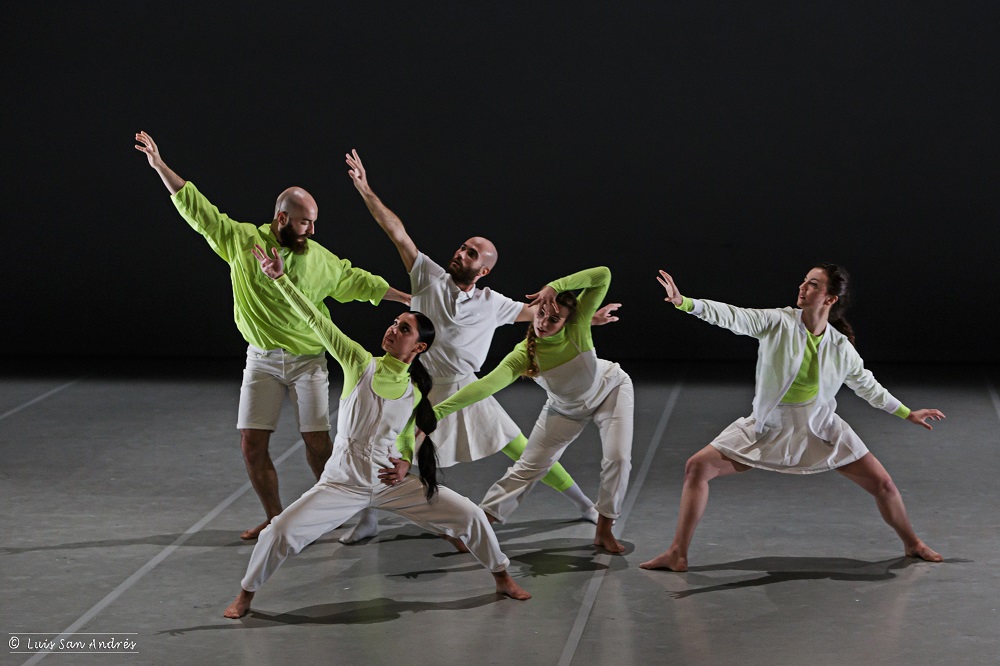 IRENE GARCÍA
Get No
It is place of transit where you can think; a non-place. A million spots for passing through, and for fleeting encounters, like in an airport. People stopping for a minute; brief stories observed in the blink of an eye or lasting forever. Time passes and the void never ends. Get No is the desire to continue; the desire to understand; the desire for change; constant dissatisfaction. Get No is a piece about satisfaction and aeroplanes. Get No revolves around certain details like these; certain poetic instants captured amid the coldness of airports and that heartbeat which sometimes happens just before a wish comes true. Finalist for the IT Dance Prize 2018.
Choreography: Irene García (La Quebrá). Dancers: Jesús Aragó, Laia Vancells, Blanca Tolsá, Ariadna Saltó, Marc Fernández and Joana Sureda. Stage and costume: Sergi Cerdan. Musical arrangements: Marta Cascales Alimbau. Music: Peter and the Wolf (Prokofiev) and Soundscape. Text and stage writing: Irene Garcia and Roberto Frattini.
Thanks to: Lipi Hernández, Roberto Fratini, Barceloneta CC, Surtidor CC, Theatre Institute, Theatre Institute Dance Awards, L'Estruch, SAT Teatre and Sismògraf Olot.
Biography
Irene García is a graduate in classical dance from the Murcia Conservatory. She studied contemporary dance at CAD (Seville). She is currently combining studies for a degree in choreography at the Theatre Institute with work as a creative artist and performer. Since 2005, she has been working with various choreographers on different projects: Arte 369, Cienfuegos dance, Staatstheater Nuremberg, Alexandra Rauh, Steptext, Montón de Paja & Trigo and Siberia/Paloma Muñoz. In 2016 she set up her own company, La Quebrá, with which she has won various prizes for young choreographers (Sabadell Choreography Event, Vic Choreography Event and Murcia Creajoven).