Temporary exhibtion Hall at La Pedrera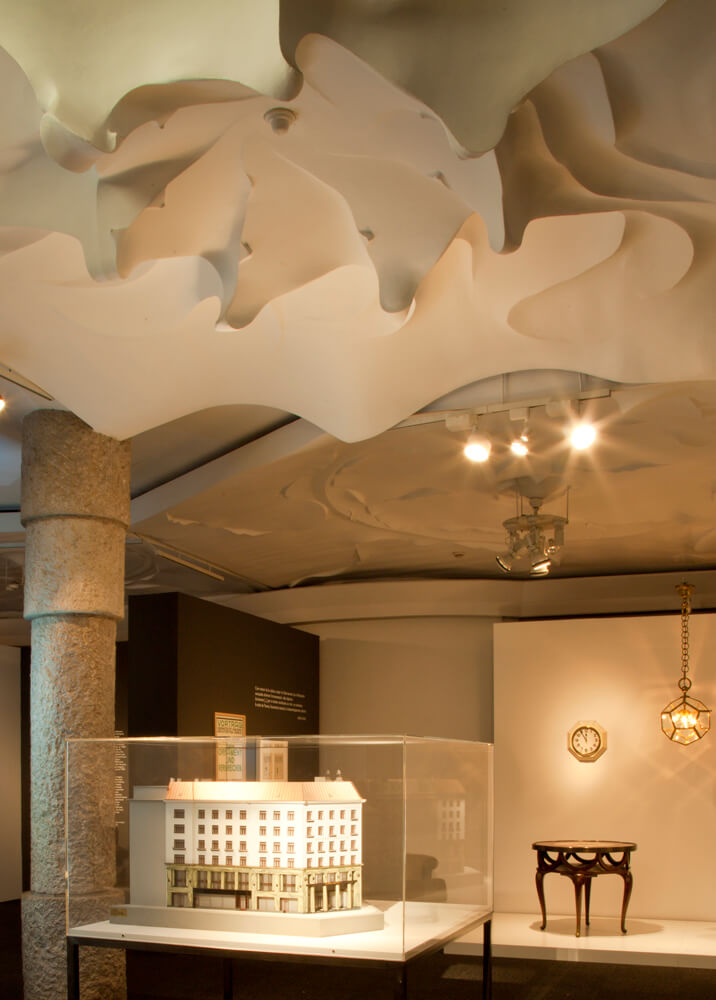 On 31 October 1912, Gaudí signed the last works certificate for Casa Milà, La Pedrera (The Quarry), one of the most remarkable buildings in the history of architecture.
To commemorate this centenary, the exhibition "The Other Pedreras. Architecture and Design around the World in the Early 20th Century" presents a selection of key works of architecture from the opening years of the last century, underscoring the extraordinary nature of this unique building by placing it in its historical context. The exhibition brings together six architects who, like Gaudí, had an all-encompassing vision of their discipline, Victor Horta, Hector Guimard, Charles Rennie Mackintosh, Josef Hoffmann, Adolf Loos and,
in the United States, Frank Lloyd Wright, each of whom is represented by a building contemporaneous with Gaudí's. Like La Pedrera, these buildings introduced new approaches in the architectural debate at a time when there was a move away from the 19th-century taste for eclecticism and harking back to the past, and the foundations were being laid for the modern architecture to come:
Maison Horta 1898–1902, Brussels. Victor Horta (Ghent, 1861 – Brussels, 1947)
Hôtel Mezzara 1910–1911, Paris. Hector Guimard (Lyon, 1867 – New York, 1942)
Glasgow School of Art 1897–1909, Glasgow. Charles Rennie Mackintosh (Glasgow, 1868 – London, 1928)
Palais Stoclet 1905-1911, Bruselas. Josef Hoffmann (Pirnitz, 1870 - Viena, 1956)
Looshaus (Goldman & Salatsch Building) 1909–1911, Vienna. Adolf Loos (Brno, 1870 – Kalsburg, Vienna, 1933)
Robie House 1908–1910, Chicago. Frank Lloyd Wright (Richland Center, Wisconsin, 1867–Phoenix, Arizona, 1959)
"The Other Pedreras. Architecture and Design around the World in the Early 20th Century", curated by Juli Capella, the architect and design theorist, features an impressive selection of more than a hundred exhibits—among them plans, drawings, models and photographs, as well as pieces of furniture and decorative artworks—that trace the developments that occurred in the realms of architecture and design a century ago. The exhibition transports us back to this time of sweeping change and takes us on a tour of six masterpieces (seven if we include La Pedrera itself) which, a hundred years on, continue to serve the original purpose for which they were designed and whose innovations still seem fresh today.