Activity at La Pedrera:
Family session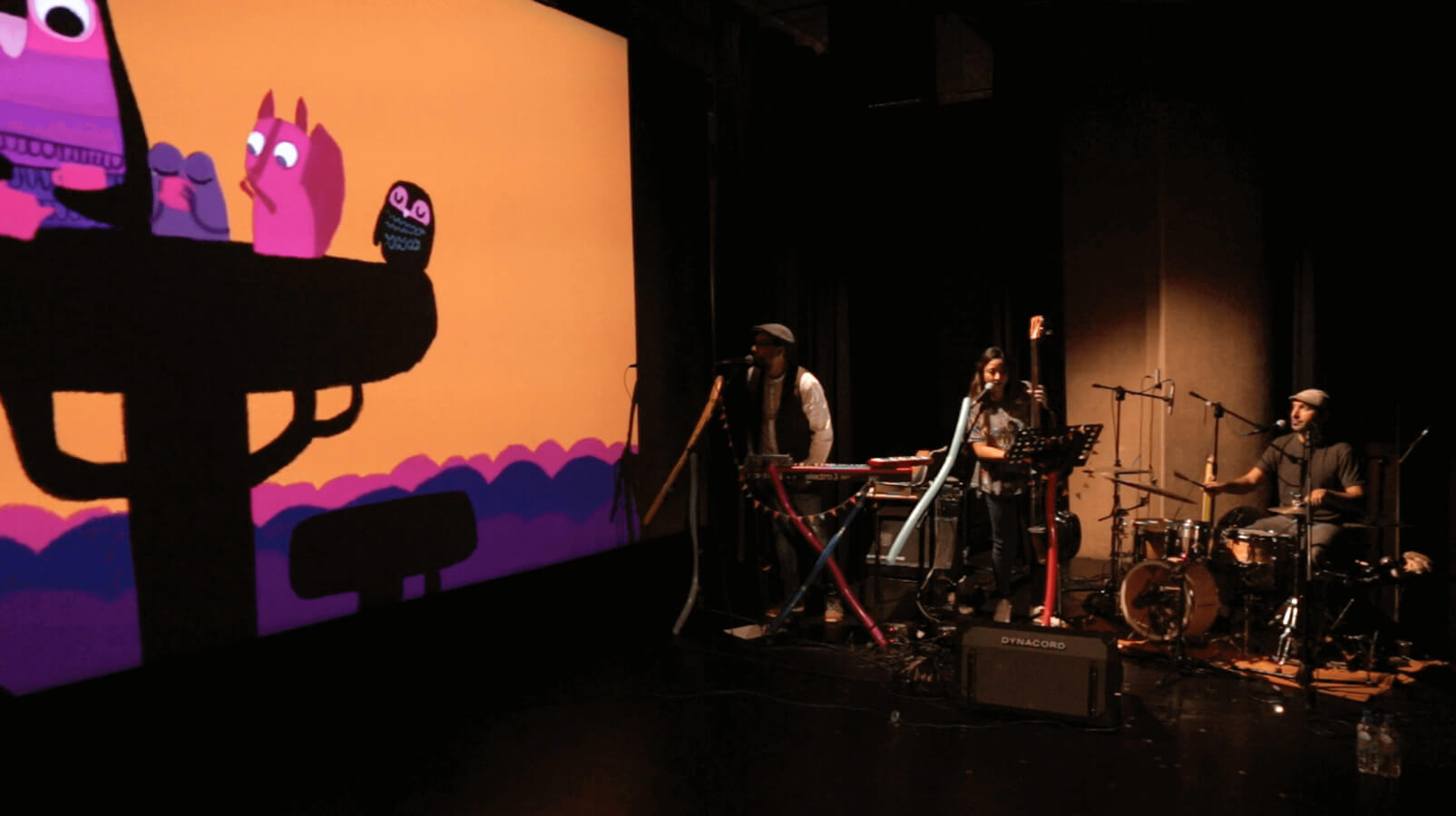 What if we could hear and see the soundtrack to a short film programme performed live? And what if we could also see who was voicing the characters? All this and much more can be found in a show for all ages, where you can enjoy magical fables and emotional messages in a film concert format. Josep Maria Baldomà has created the soundtrack for this session with a selection of seven short films from MODIband. A magical session, full of musical sounds and a wide range of tones, in which the musicians will voice the short film characters live.
Running time: 45 min. Session recommended for anyone over the age of two. 
Josep Maria Baldomà is a Barcelona composer with broad experience in creating soundtracks for films and television. This time he has taken on a challenge set for him by El Meu Primer Festival and created a soundtrack for the seven short films making up this session. A trio of musicians will perform his scores live in a magical concert full of musical sounds and very diverse tones in which the musicians will voice the characters in the short films live.
Martí Hosta: percussion, drums, noises, vocals and dubbing and samplers
Viviana Suárez: double bass, guitar, vocals and dubbing and percussions and samplers
Josep Maria Baldomà: composer, conductor, synths, computer, accordion, dubbing and samplers
The short films:
The Pocket Man (Le petit bonhomme de poche). Ana Chubinidze, France, 2016, 7' 27'', no dialogue.

A very little man leads a peaceful life in a suitcase on a pavement in the city. One day he has an eventful meeting with an old blind man, still unaware that they will be united by a common passion.
I'm Not a Mouse. Evgenia Golubeva, United Kingdom, 2015, 2'

Every time Lucy's mother affectionately calls her "little mouse", she actually turns into one. What can Lucy do?
Manolito's Dream. Alla Kinda, Spain, 2012, 2', no dialogue.

Welcome to Manolito's subconscious! Get ready for a fascinating return journey with strange creatures and exotic landscapes. Don't worry, it's only a dream!
A Bit Lost  (Un peu perdu). Hélène Ducrocq, France, 2017, 5'

What a disaster! The baby owl has fallen out of the nest! It's a good thing the squirrel can run off to look for other woodland animals so they can find his mother.
Fishbowl (Bool). Elizaveta & Polina Manokhins, Russia, 2016, 3'30'', no dialogue

Two fish, one ball-shaped and the other like a fishbone, confront one another, until they realise they each need the other to survive.
 I Want My Hat Back, Galen Fott, USA, 2013.

The bear's hat has disappeared. The other animals say they haven't seen it. The bear is beginning to feel sad and discouraged when a deer asks him a question that reminds him what has happened to his hat.
The Sled (Belchonok i sanki) Olesya Shchukina, Russia, 2016.

One winter's day, while his mother is out, a lively, curious squirrel will make a really exciting discovery.