Activity at La Pedrera:
"Yo siempre sueño que sí", by Nico Roig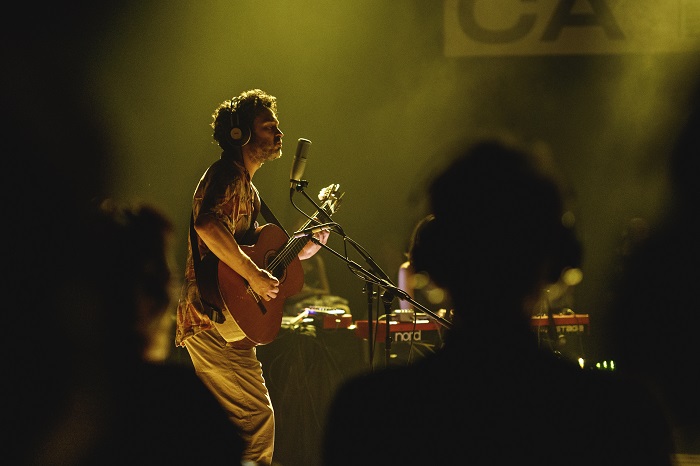 Within GREC FESTIVAL
Indie and alternative sounds from the singer-songwriter Nico Roig play out, accompanied by Tarta Relena, Marina Herlop and Cote Fournier, in an intimate concert with binaural sound, where audiences will hear compositions in three dimensions.
Hope and humour feature heavily in the latest songs from Nico Roig, a singer and composer who, halfway between Barcelona and Brussels, has been building up a career outside the mainstream as far as trends and tastes go, with some particularly interesting projects such as Os Meus Shorts, and also collaborations with artists ranging from Papa Dupau (Za!), Maria Coma and Raül Fernández Refree, to name but a few. In the wake of works such as Tonada del genoma humà, Les dones macabres and Vol 71
The artist now presents us with Yo siempre sueño que sí, an introspective sound journey where, as he explains, he travels along rational and spiritual paths, supposedly taken by those seeking happiness and love. He does this accompanied by a duo who have made the human voice their main instrument, Tarta Relena (Marta Torrella and Helena Ros) whose collaboration with the artist was meant to be limited to a single song but which ended up extending to the entire show.
Composer and pianist from Piera Marina Herlop will be accompanying them on the keyboards and the musician Cote Fournier will be contributing effects and keyboards.
You will hear the music produced by these artists in a new way: through a binaural sound that audiences will pick up through headphones. A device shaped like a human head located at the centre of the venue reproduces the performers' music, distinguishes whether they are closer or further away and enables audiences to hear exactly the same sound as the artists and enjoy a three dimensional sound that is very similar to the one which naturally reaches the human ear.
This will be a close, intimate concert where we will not only enjoy the singing and guitar-playing of one of the most personal artists on the Catalan Indie scene but also the talent of Fournier, Herlop and two young artists, the Tarta Relena, who have made a name for themselves with their a cappella performances which cover the traditional Mediterranean sound catalogue while keeping a foot in today's world.
A David Soler and Marcel Bagés production.
Music performed by: Cote Fournier, Nico Roig, Helena Ros, Marta Torrella and Marina Herlop Photography: Xavi Torrent