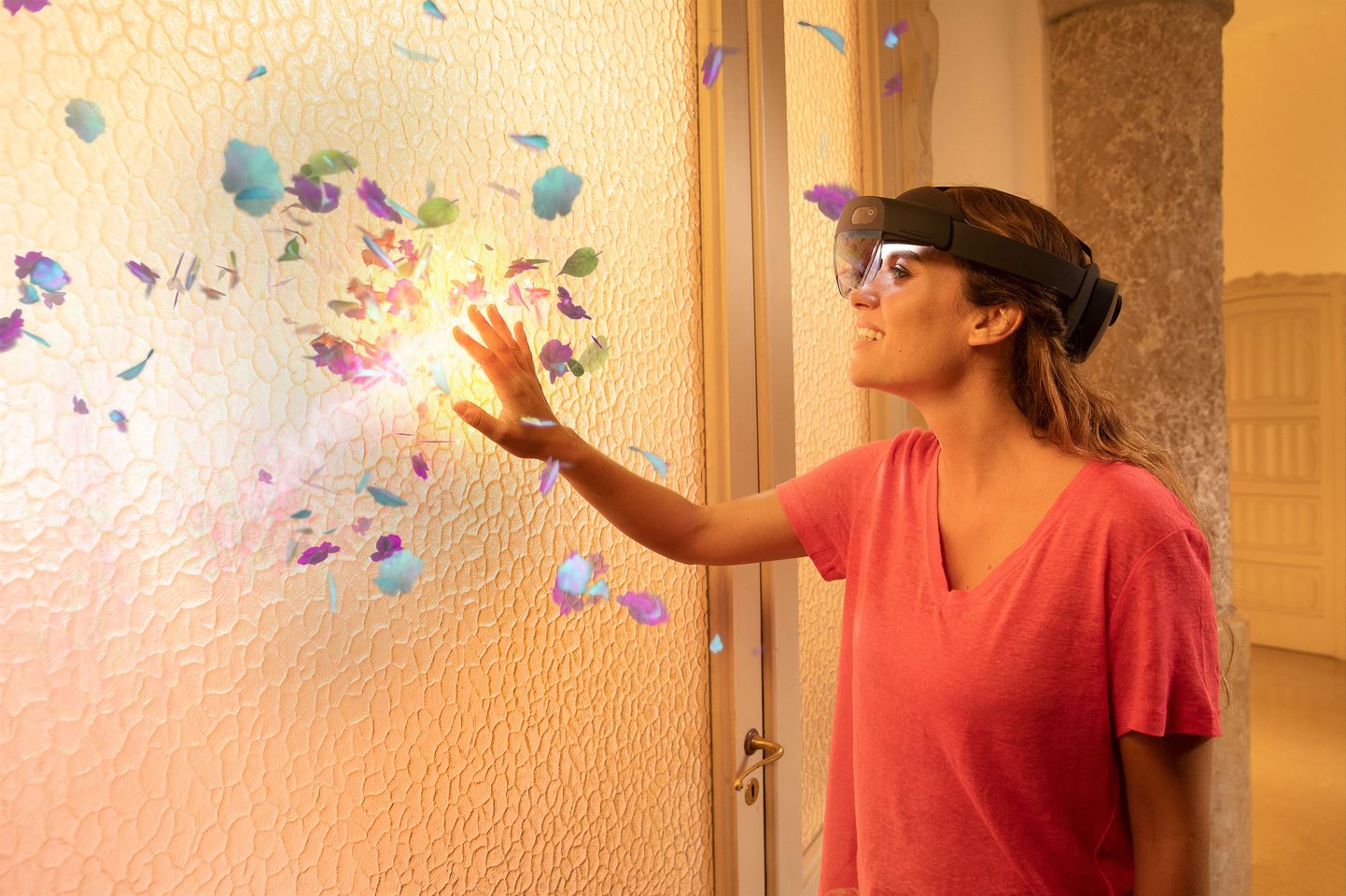 06/07/22
A new experience arrive at La Pedrera: La Pedrera Virtual Experience. 
Fundació Catalunya La Pedrera and Laie – Culture Experience launch the new La Pedrera Virtual Experience experience, that lets you discover the secrets of La Pedrera-Casa Milà through a combination of holographic technology and reality. This new experience is unique in Spain, offering a new vision of the building and Gaudí's creations through Mixed Reality (MR).
The aim of this tour is to bring Gaudí's universe closer to visitors as never before. It incorporates the most innovative technology with the Microsoft HoloLens 2 device, which visitors can use to discover the history and architecture of Gaudí's building in an immersive and multisensory manner.
La Pedrera Virtual Experience tour takes place in a new space in the building, on the La Pedrera mezzanine floor, which is open to the public for the first time. This circular space surrounds the Patio de las Mariposas and follows the architectural lines of Casa Milà. During the experience you'll discover who owned the building, what was Gaudí's inspiration, how he built it, and stories from people who have lived there over the years.
This technology is based on the concept known as Mixed Reality. Holograms are combined with actual physical space, and appear in the various rooms throughout the tour, where the visitor learns about the building's inspiration and history through these exclusive visual methods. The visitor is not simply a spectator, they are a participant in their surroundings, interacting with La Pedrera's history.
MR is very different from other experiences, for example those based on Virtual Reality (VR), since the user's adaptation is almost immediate. The visitor is aware of the space and the surrounding physical objects at all times, making the experience safe, immersive, and very pleasant.
La Pedrera-Casa Milà offers two different visits: on one hand, La Pedrera Virtual Experience that includes the Mixed Reality visit and, on the other hand, the combined visit La Pedrera Full Experience that combine the new visit with the usual of the building to do a unique and complete experience.