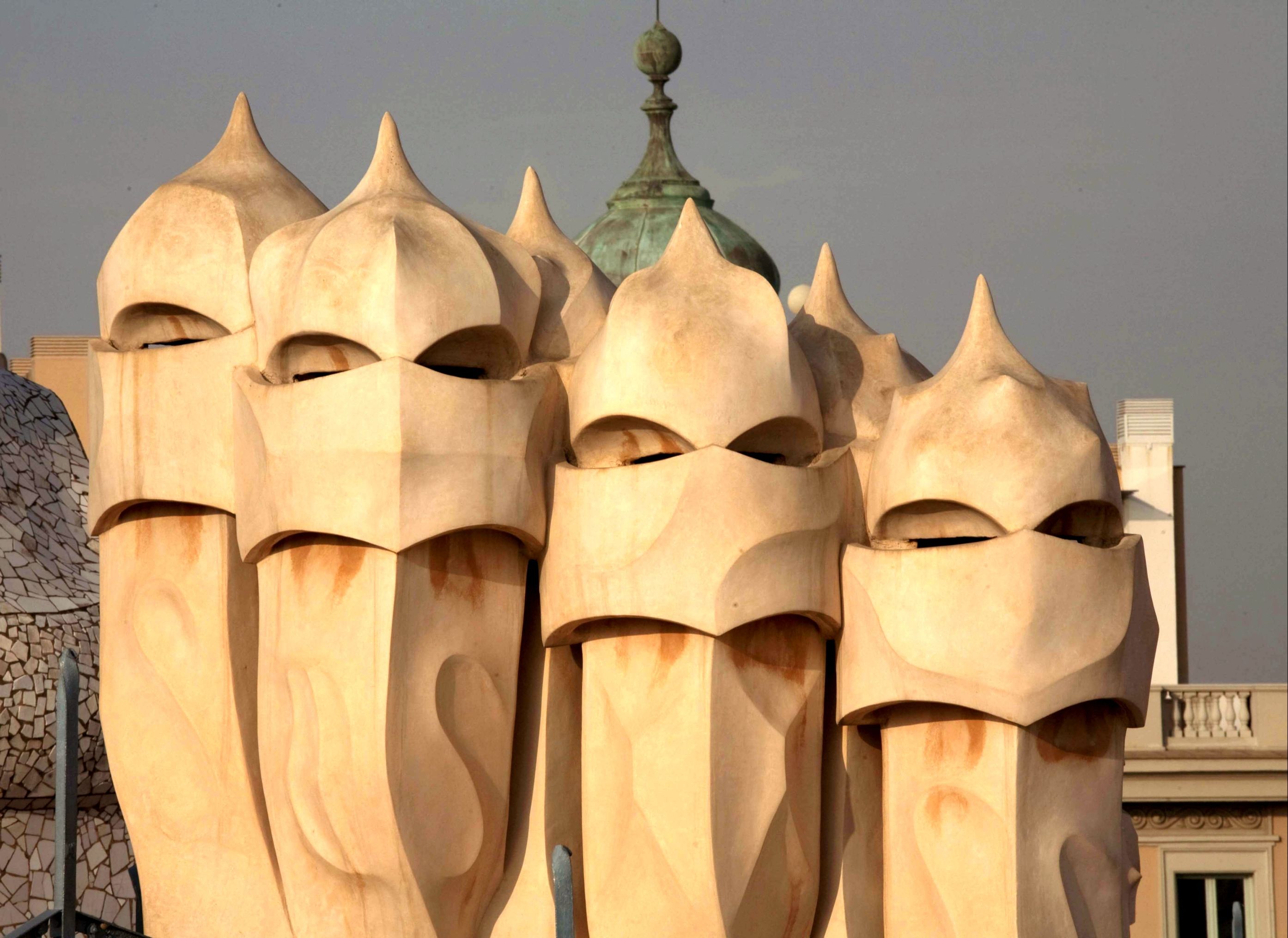 06/03/20
The roof terrace at La Pedrera-Casa Milà is unique. Walking around it is like being in a museum full of Gaudí-style sculptures.
On the roof you'll find order, aesthetic quality and great functionality in the elements of the construction: the staircases providing access to the attic, the ventilation towers and the chimneys.
| | |
| --- | --- |
| To soften the volumes of the staircases, Gaudí uses curves, all of them deriving from the regulated geometry which lightens the building using concavity, convexity and conical shapes. Four of the six stairwells are covered with recycled stone, marble or ceramic trencadís mosaic in monochrome shades. The other two are covered in stucco made from lime mortar and plaster. The ventilation towers help renew the air in the attic.  The chimneys (smoke outlets) are grouped into threes and fours. To give them their sculptural shapes, Gaudí turns them on themselves, using an internal and external layout that follows the aerodynamic movement of the smoke. There is one group of chimneys covered with pieces of cava bottle in an original version of trencadís. | |
| | |
| --- | --- |
| | Because of the Milà family's financial problems, Gaudí did not have time to finish some details of the house. Part of the decoration/protection of the elements on the roof terrace is not finished. Most of the chimneys and two of the staircase exits should have been covered with trencadís made from ceramics, stone, bottles or other materials. This technique had an aesthetic function but it also served as protective waterproofing. For the perimeter grille, Gaudí began designing a model that would follow the sinuous shape of the roof terrace. In 1911, as we know from photographs of workers on the terrace, the owners decided to install the current grille, although it did not correspond to the design Gaudí would have wanted. |
However, we can still enjoy one of the most outstanding roof terraces in all Gaudí's architecture, with some sculptural and architectural elements to set the imagination racing way beyond their functionality and attractive appearance.