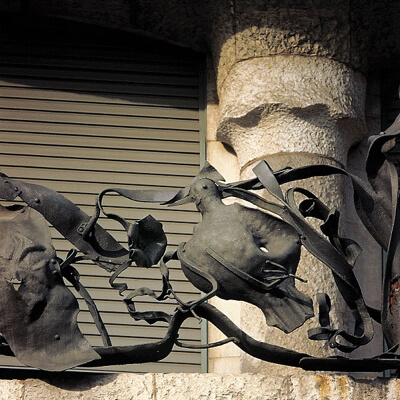 26/03/20
No other image of the facade, and especially of its balconies, illustrates in a better way the strong aesthetic impact that they had. The satire or mockery of 1911 draws the wrought iron balconies as if they were dried cod tails and a sign hangs on the ledge that reads, "Great exhibition and sale of cod guts." At the foot of the comic strip says, "A house that is rented, and it does not seem bad to me, to sell cod when the Carnival passes."

The facade of the building is unique and not only because of its columns, the curtain wall and the shapes of its stones, but also because of its many balconies, each one different from the previous one.
There are 32 balconies on the façade. These balconies have railings made from the union and fusion of scrap metal, iron plates, bars and chains. This is a very unusual combination but very effective, thus maintaining the two principles of Gaudí's architecture: functionality and aesthetics. Looking closely at the balconies you can see some shapes that resemble animal figures, faces and obviously shapes taken from nature - from the rich seabed - which some people have compared to abstract sculpture in the early 20th century.
The first railing was installed on the 2nd floor in 1910, already in the last years of the building's construction. That was the sample flat. This grid was made in the workshop of the Badia brothers in the same city and where Gaudí personally directed its execution.
| | |
| --- | --- |
| | Gaudí himself designed the first iron grilles for the basements, but as it happened on the roof of La Pedrera, due to budgetary problems the other grilles were made in series with the same design and adapting them to each window of the basement. Currently, only two originals grilles remain at the entrance to Passeig de Gràcia and one facsimile copy on Provença Street. Over the years some shops were set up on the ground floor, and the grilles were disappearing. Currently only three grilles are preserved in the Gaudí House Museum in Parc Güell and one in the Museum of Modern Art in New York. |