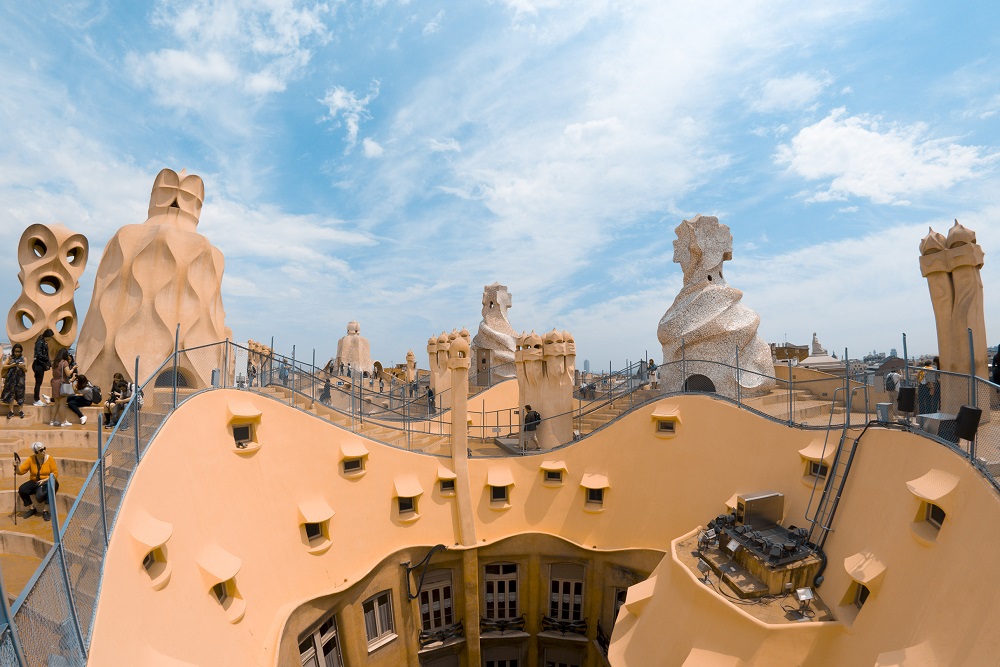 31/05/18
Are you coming to Barcelona for your holidays this summer? Are you finalising your plans for your trip to the city and still haven't decided what you want to visit in Barcelona?
Here are ten reasons why you should visit Casa Mila, Antoni Gaudi's masterpiece:
Gaudí's culminating work: Casa Mila (La Pedrera) was Gaudí's last complete commission, the work of civic architecture in which he put the finishing touches to his imaginary, a building that has been declared a World Heritage site by UNESCO and a Historical and Artistic Monument of National Interest.
A privileged situation: Pere Milà and Roser Segimón wanted to live on the best street in Barcelona, Passeig de Gràcia, and so they purchased a small house with a garden where Antoni Gaudí built his last work of civic architecture. Do you want to know how to get here?
The finest summer concerts: Casa Mila was one of the first of Gaudí's buildings to hold night-time activities on the rooftop. This summer, don't miss the Jazz Evenings on the La Pedrera Roof Terrace, as you will enjoy the finest jazz performed live on a truly fascinating rooftop.
The sea transformed into a façade: The longest façade on Passeig de Gràcia calls to mind an undulating stone sculpture that plays with light and shadows to generate a sense of dynamism.
Wrought-iron balconies: For the façade of Casa Mila, Gaudi had unique railings made of pieces of recycled iron. There is a unity in the concept of their design, yet La Pedrera is the only building by the architect for which the railings were not mass-produced.
Light through the courtyards: Casa Mila is the only building in the Eixample in Barcelona that not only has small ventilation courtyards but also two large courtyards, which Gaudi incorporated into his design to improve the lighting and ventilation in the 16 apartments.
Attic that is a museum: In the attic of La Pedrera, you will find the Espai Gaudí, the only interpretation centre that specialises in Gaudí's entire body of work in Barcelona. Here you will be able to learn about his architecture and his sources of inspiration.
The best rooftop in the world: From Casa Mila's rooftop, you will be able to enjoy spectacular views of the city of Barcelona. It is a unique space where Gaudi transformed the chimneys and staircase exits into veritable sculptures.
The main floor: The apartment on the main floor is today used as exhibition rooms. Here you will be able to see the open-plan layout, with no load-bearing walls, as well as ceilings and stone columns decorated with floral motifs and inscriptions that are the loveliest in Casa Mila. 
A building for all purposes: Casa Mila is an innovative work as regards its function, construction and ornamentation. It is also remarkable in terms of its current uses: it is a museum and the central offices of the Catalunya La Pedrera Foundation; it still contains residential apartments; cultural activities are run here; and it has a café and shops on the ground floor.