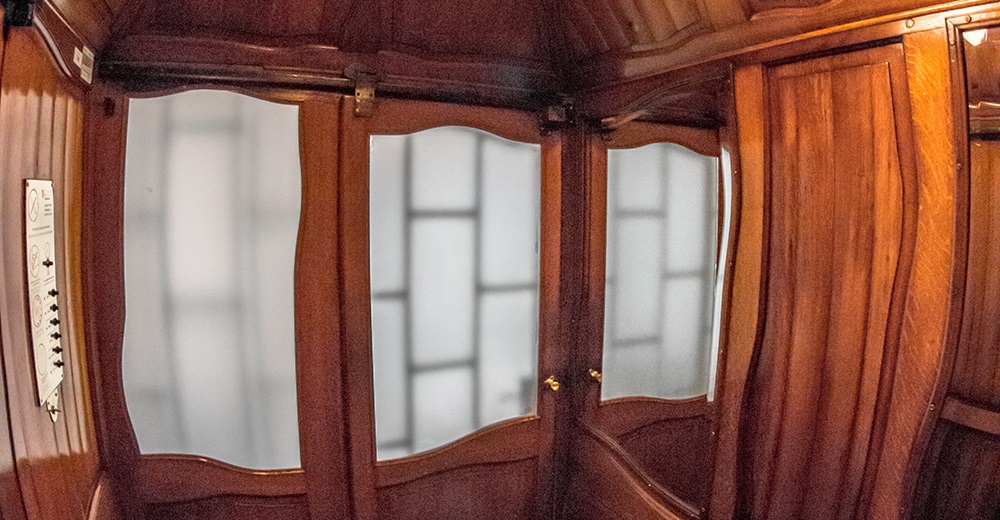 24/05/18
The lifts play a prominent part in the innovative distribution that Gaudí designed for a modern house well equipped with services. The passenger compartments were made entirely of wood and featured brass knobs, a control panel and a telephone to communicate with each of the apartments. As was de rigueur at the time, the lift was equipped with a bench that originally had arms.
Unlike the system most commonly found in the Eixample area of Barcelona, there is no connection in La Pedrera between the landings served by the lift and those served by the staircases, as these were used by servants and tradespeople and are situated at the rear of the apartments. This differentiation between lifts as the main means to reach apartments and the side staircases as secondary forms of vertical communication is conceptually in keeping with the modern idea of mechanical accesses and emergency exits.
The stairs in La Pedrera are neither straight nor flat but instead match the warped and variable surfaces along their route. Gaudí enhanced the service staircases by giving them stairs on a human scale, that is to say, of a width and height that made it easier to climb the seven floors up to the attic to do the laundry.
One important feature of the staircases are the banisters made of strips of iron riveted together that follow an undulating movement that varies on each flight and is repeated in the wooden handrails that run along each of the apartments in a continuous line.